What is the purpose of a neck roll or football collar?
Football neck rolls have forever been part of the game, and a player's armor out on the field. The main purpose of a neck roll is to cradle and hold the neck in proper place. It attaches to the shoulder pads, with either screws, clips, or ties, and wraps around the neck, under the helmet. When the player gets hit, makes a tackle, or hits the ground hard, the neck roll prevents the head from snapping back, causing whiplash or any other neck or head injury.
With a variety of styles, designs, and technologies, today's neck rolls try to provide the highest levels of safety without obstructing a players movement or weighing him down.
Top of Page
What is the difference between the round and contoured football neck rolls?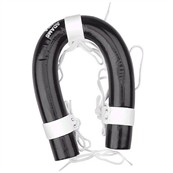 Contoured and round neck rolls from brands like Adams Football are traditionally designed neck rolls, used by players of all ages for decades now, and they remain fairly popular across every league. The shape resembles a horse collar and they are very effective at preventing stingers and burners.
Although there are two traditional forms of these collars, (rounded and flat-contoured foam) there is no discernable difference in their performance. Contoured (squared) and rounded collars seem to be equally effective at cradling the neck and head. They both are made from durable foam, and attach to the shoulder pads by tight ties, that are included with each roll. In general, the choice in shape is simply a matter of comfort on the neck and personal preference.
Top of Page
What does it mean that a neck roll "floats" or doesn't "float?"
What does it mean that a neck roll "floats" or doesn't "float?"
Traditional neck rolls that tie to the shoulder pads are considered to float, because they are not directly attached to the shoulder pad. Football collars from brands like Mueller and Douglas actually screw into your shoulder pads, permanently or semi-permanently, and do not "float." These neck rolls are great because they do not move, and provide adequate padding without restriction motion!
In the non-floating category, Sports Unlimited carries the:
The Mueller Neck Roll, also known as "The Cool One," is a very popular collar, and comes in a variety of colors to match your jersey. It also doesn't trap body heat, and breathes well, giving it its nickname.
Douglas neck rolls are the most padded collars, and are specially designed to fit particular series of Douglas shoulder pads. They attack with snaps, and provide secured, specialized protection.
The Douglas butterfly restrictor fits directly into the shoulder pads, and provides incredible protection from stingers, without restricting head movement. Its unique design actually lets you fully turn your head or bend it to the sides to get a better view of the field, without sacrificing protection.
Screwing these collars in and attaching them only takes a few minutes, and can be done easily by following these steps: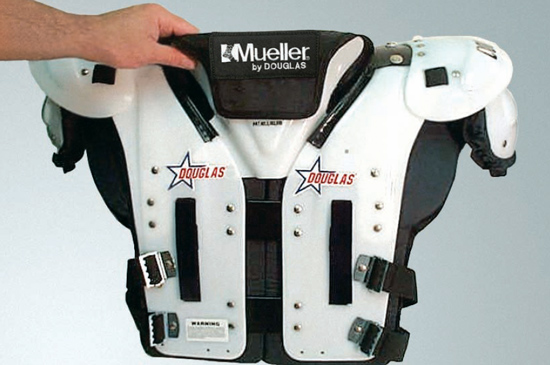 1. Slide collar down between the plastic arch and cushion. Adjust to proper fit.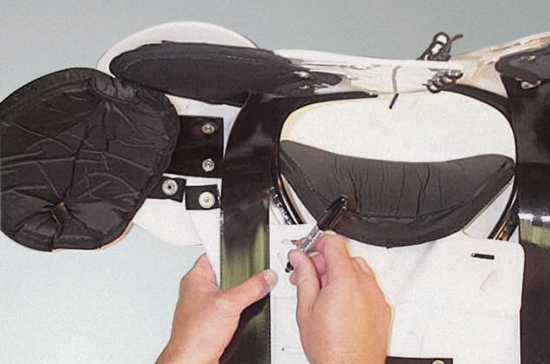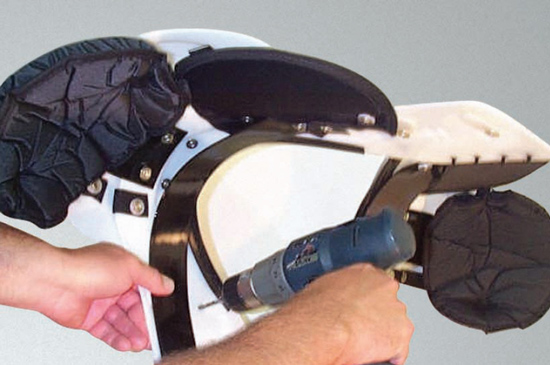 2. Mark and drill small holes (if necessary) inside the shoulder pad.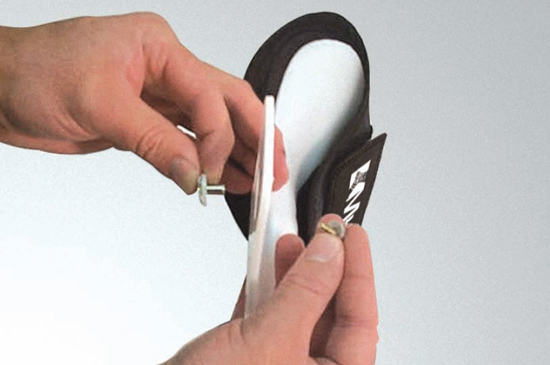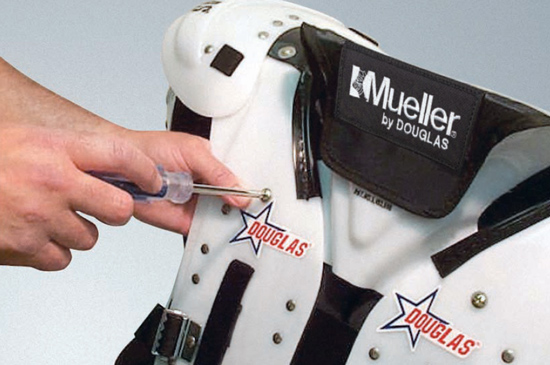 3. Assemble by inserting hardware provided.
Please Note: It is essential to follow installation and use instructions. No warranty is made, either expressed or implied, that any injury will be prevented with this equipment.
Top of Page
What is a cowboy collar?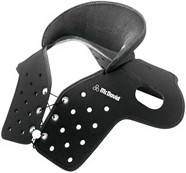 Football Cowboy Collars, like the ones offered by McDavid, provide a wider range of protection and support than traditional neck rolls and collars. Unlike either floating or non-floating neck rolls, cowboy collars fit right into the entire shoulder pad, spring loaded to remain secured and in place. Its larger area and molded collar supports the back of the helmet, as well as giving you side to side support, all without restriction movement and left to right turning.
Cowboy collars tend to run more expensive than other types of collars, but provide more support and less movement restriction, giving them a wide range of benefits than other neck rolls.
Top of Page
How do I know which neck roll fits my football shoulder pads?
The majority of football neck rolls and collars fit any shoulder pad. Adams shoulder pads, for instance, can be tied to any size or style shoulder pad in the game. However, certain neck rolls and collars are designed for specific shoulder pads, or sizes.
The Mueller Football Collar ONLY fits youth large and adult sized shoulder pads.
Douglas neck rolls are designed for specific series Douglas shoulder pads only, like the youth, SP, DP, or NP shoulder pads.
McDavid Cowboy Collars come in three sizes, to fit youth, adult, and larger adult players.
Schutt neck collars ONLY fit Schutt shoulder pads, and come in youth and varsity sizes.
Top of Page