Which type of winter sled is right for me? Which sled is right for my family?
That's a question only you can answer, but we sure can help you get a better idea of the answer.
First of all, let's narrow down your decision by answering a few preliminary questions. These will give you a more defined idea of what you're looking for:
Who will be using the sled primarily? Is this new sled for adults or children? - Some sleds are designed for adults, and can be dangerous for children. Others are too small for adults.
How often will you be using the sled? - Some sleds are more durable, and stronger than others, and can hold up to regular and constant use.
Where will you be using the sled? - Some sleds are designed for smaller hills. Others are meant for larger hills and ski runs.
What is your budget for this new winter sled? - The price of winter sleds, snow tubes, snowboards, and snow racers vary greatly, depending on brand, durability, use, etc.
Now that you've answered these questions for yourself, you are more prepared to find the perfect sled for you. Let's take a closer look at all the types of winter sleds and other snow toys we offer at Sports Unlimited.
Top of Page
What are the differences between the sleds offered by Sports Unlimited?
1. Foam Sleds
Foam sleds are our most popular and best selling sleds. They're easy to use, safe, and great for all ages. Their simple design lets you ride your way; laying or your stomach, going feet first, or kneeling on the sled, so the ride stays fresh, new, and exciting every time!
Foam Sled Breakdown
Price:
$ - Fairly inexpensive, a great value
Weight:
Lightweight
Speed:
Very fast
Features:

Durable foam construction
Most feature sturdy handles, making them easy to carry and transport
Range in size from 36" to 48" to accommodate children and parents
Come in a variety of colors and cool graphics
2. Snowracers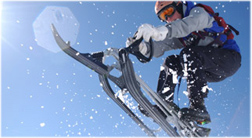 Produced by Stiga, snowracers take sledding to a whole new level! As a company, Stiga has been producing and designing sleds for over 70 years, and they have been at the cutting edge, developing some of the most advanced snow sleds on the market. Our selection of Snowracers give you a lot of control and speed, so they're best used by advanced riders.
Snowracer Breakdown
Price:
$$$ - Somewhat expensive, but a great value for the quality
Weight:
Durable metal frame is somewhat heavy
Speed:
Very fast
Features:

Comfortable seat allows you to sit and control as you ride
Twin tip skis let you take the sled backwards down the hill
Dual ski design stabilizes the sled for a smooth, fast ride
Two component steering wheel with attached ski for incredible control
Incredibly durable metal frame lasts season after season
3. Snow Tubes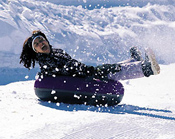 Fun and inexpensive, snow tubes are the simple choice for cruising down the hill with speed and style! Quick to inflate and deflate, snow tubes travel well and are easy to store, making them perfect for the sledder on the go, or the infrequent sledding trip. Watch out though, snow tubes have no controls and can pick up a lot of speed, so be careful! They may not be appropriate for very young children.
Snow Tube Breakdown
Price:
$ - Inexpensive and affordable
Weight:
Incredibly lightweight
Speed:
Very fast
Features:

Easy to transport and store
Require air or a compressor to inflate
Most feature hand holds to stabilize your ride
Lightweight and easy to carry back up the hill
Fits and supports almost any size rider
4. Toboggan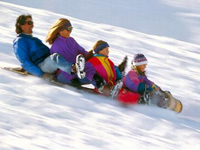 One of the oldest and still most popular sleds in the world, toboggans have been a part of people's winter lives for centuries! Originally designed as a functional form of transportation, toboggans have now become a source of hours of family fun down the local hill. And when we say "family fun" we mean fun for entire family...at once! That's right...most of our toboggans are big enough to seat a few people at once, so the whole family can shoot down the hill together!
Toboggan Breakdown
Price:
$$$-$$$$  - Toboggans can range greatly in price depending on size
Weight:
Sturdy but lightweight wood construction
Speed:
Somewhat fast, but made to provide a smooth, fun ride
Features:

Depending on size, can fit anywhere from 1 to 4 people
Made from bound wood slats that come to a curved loop at the front
Aerodynamically designed
Rope attached to front for easy and safe pulling
Front rider sits down with their feet in the loop
Passengers sit behind, in a line, holding onto the person in front of them
Fun for the whole family!
5. Snowboards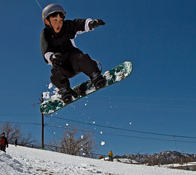 Anyone that's gone skiing over the past several years has noticed the increased popularity of snowboarding. What began as an innovative and cool new way to shred the mountain has now become a full-fledged sport, thanks to people like Shaun White, who put snowboarding on the map. But snowboarding is a lot more than insane tricks and half pipes. They can be used on any sized hill by any sized rider!
Snowboard Breakdown
Price:
$-$$ - Our selection of beginner's snowboards are durable and won't break the bank
Weight:
Lightweight and sturdy
Speed:
Can range in speed depending on ability
Features:

Sports Unlimited offers beginner snowboards for young and new riders
Heavy duty plastic construction holds up to the regular abuse
Easily adjustable bindings fit most feet
Perfect for riders age 6 and up
Top of Page
What about other toys for the snowy winter?
Sports Unlimited offers a full selection of snow toys that will keep your kids wishing for more snow (like they don't do that already)! Check out a snowball maker, snow fort maker, or snowball blaster to take your kids' winter experience up a notch. Perfect for the whole family, and great to get the neighborhood kids together, these snow toys will keep everyone entertained and active all winter long.
Top of Page
How safe are sleds?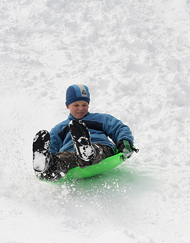 Sledding is a fun and thrilling activity, but like any, it has its risks. Even with the best sleds on the market, dangers still exist in moving quickly across a slippery incline, especially when there are plenty of other kids around you who may not be as safe as you are. To help prevent injuries to you and your family, follow these simple rules when sledding:
Always supervise children when they are sledding
Check the hill for obstacles, holes, rocks, etc.
Ensure that the sledding path does not end near a street, parking lot, pond, or other dangerous area
Avoid going downhill head first
Consider using a helmet for children under 12
Sleds that can steer are generally safer than those that cannot
Sled during the day, or at night in a very well lit area
Wear warm and layered clothing to stay safe and pad yourself from impact and injury
If you have any questions, or need more help choosing a new sled, call our Customer Service Department at 1-800-693-6368, and have a safe winter!
Top of Page