Frequently Asked Football Game / Practice Jerseys Questions:
What is the difference between a practice and a game football jersey?
Football Game Jerseys are intended to be used during sanctioned games, and are typically high-quality, lightweight polyester jerseys with team logos, designs, or color-contrast inserts for style. More durable, for lasting performance and playability, game jerseys are meant to last single or multiple seasons! These jerseys are also meant to be customized, with room for team names and players numbers.
Football Practice Jerseys are meant to be used during drills and scrimmage games, and are typically lightweight, simple mesh jerseys with solid colors, to easily determine teams and positions. Thinner and more breathable than game jerseys, practice jerseys are also not meant to be customized, although they can be if needed.
Top of Page
What are porthole, mini-porthole and mesh jerseys?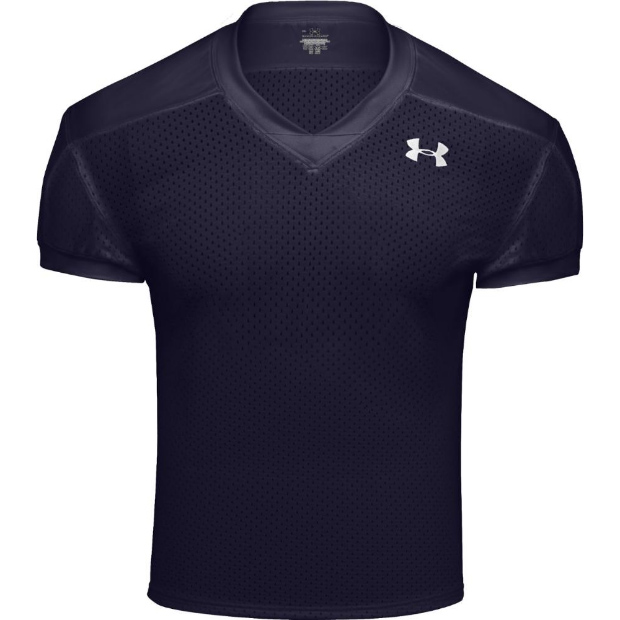 The term "Porthole" refers to the size of the mesh holes in a jersey. Most practice, and some game football jerseys use mesh polyester to improve breathability and reduce weight.
Porthole football jerseys feature larger holes for maximum breathability and minimal weight. These larger holes tend to make the jersey a bit more rough.
Mini-porthole jerseys feature smaller holes, and a more streamlined look and feel, for added comfort.
Top of Page
What is the difference between single yoke and double yoke football jerseys?
The yoke of a football jersey refers to the upper back or shoulder area of the jersey. A single yoke means only one piece of fabric is used continuously over the shoulder. Double yoke then means that two pieces of fabric are used.
Double yokes usually indicate a higher quality jersey, and may also be more durable, however there is no discernible difference between the two as far as wearability and overall performance.
Top of Page
Can I customize my football jersey?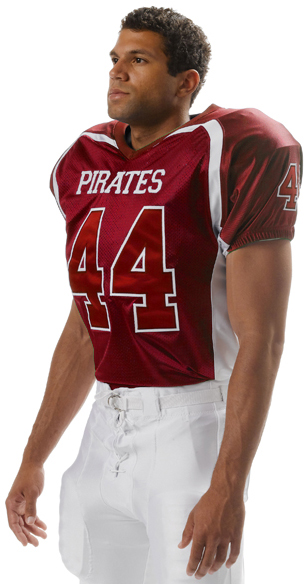 Each football jersey ships blank, but you can definitely customize your jerseys for your team, creating a unique look all your own! Check out our huge selection of customizable adult football jerseys and youth football jerseys. Then contact our Custom Team Department directly at 1-866-286-9772, or email them at team@sportsunlimited.com, for information, quotes, or to order.
With their help, you can add a team name, player name, player number, and even a school or team logo to any jersey! Ask about our team sales and get custom football jerseys for the entire squad!
Top of Page
What size jersey should I get?
Sizing jerseys is similar to sizing traditional shirts, although you want them to fit over your pads and equipment. Each manufacturer's jerseys will fit different, so it's best to consult each particular sizing guide located on the product page of each jerseys. Generally, jerseys will fit into the following sizes:
Adult / Mens Size Chart (all measurements in inches)
 
S
M
L
XL
XXL
3XL
Chest:
34-36
38-40
42-44
46-48
50-52
54-56
Waist:
28-30
32-34
36-38
40-42
44-46
48-50
Youth Size Chart (all measurements in inches)
S
M
L
XL
Size:
6-8
10-12
14-16
18-20
Chest:
28-30
32-34
36-38
40-42
Waist:
22-24
26-28
30-32
34-36
Top of Page