What are the parts of a shoulder pad?
To get a better idea of which shoulder pad will work for you, it's important to understand all of the standard parts of a shoulder pad, and know what they do for you. The size and type of these parts will vary by shoulder pad brand, style, and position, and may determine which one is best for your needs on the field.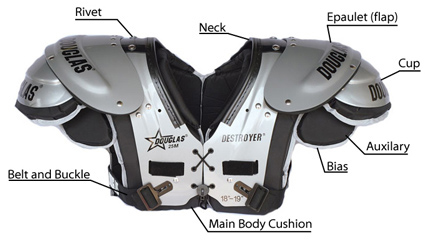 Rivet - Attach the plastic shell to the inner padding and cushions, and keep all of the shoulder pad's parts in position.
Neck - An opening in the pads that fits over your head, and is typically lined with comfortable padding or fabric.
Epaulet - An extended piece of the shell that provides additional coverage and protection to the shoulder.
Cup - Similar to the epaulet flap, the cup hangs down over the shoulder for extended protection.
Auxiliary / Bias - A secondary cushion to improve impact absorption and protection.
Main Body Cushion - The main internal padding under the shell, which covers the chest to provide wide protection.
Belt / Buckle - Available in a wide variety of styles, from T-Hooks to belt straps, designed to wrap around the body, secure the pads, and provide a customized fit.
Top of Page
Which shoulder pad is right for my position?
While most youth shoulder pads fit and benefit every player similarly, adult shoulder pads are specially designed and configured to compliment the skills needed at different positions on the grid iron. The size of the shell, the type of cushioning, and the features of a shoulder pad style will differ based on the position its meant for. So to narrow down your shoulder pad choice, it's important to know which position you play, and find the shoulder pads that will complement that position:
Quarterback / Wide Receiver - Pads designed for mobility, agility, and range of motion
Lightweight padding
No excess or heavy epaulets
Flexible shell and cushioning
Strategically placed padding
*For QBs who love to run, look into shoulder pads specially designed for running backs, wide receivers, or defensive backs
Running Back / Defensive Back - Pads designed for mobility and agility, with more protection when running through traffic
Similar in weight, flexibility, and range of motion to QB shoulder pads
Stronger padding and cushioning
No excess or heavy epaulets
Great range of arm motion
Incredibly secure fitting
Provides solid protection against hard hits
Plated front connections instead of front laces cut down on mid-play adjustments
Vinyl buckles give a strong and secure fit under the arm, but can sacrifice adjustability
Heavier than QB or RB shoulder pads, but still lightweight for quick movements
Lineman - Pads designed for ultimate protection against the hardest of hits
Heaviest, most durable shoulder pads on the field
Ample mobility keeps linemen moving
Streamlined pad
Sleek profile without extra epaulets prevents the other line from holding onto the shoulder pads
Vinyl buckles or elastic straps provide a secure and adjustable fit, based on personal preference
Top of Page
How do I find my shoulder pad size?
To make sure you're getting the most protection and comfort out of your shoulder pads, it's important to purchase the right size. To find your shoulder pad size, check out this video, or follow the link below for our shoulder pad sizing video:
How To Size Football Shoulder Pads
Find a friend or a parent. Measuring yourself isn't easy to do, and can lead to inaccurate measurements.
Measure your chest. Using a flexible measuring tape, and standing up straight, measure the entire circumference of your upper torso.
Measure your shoulder width. Standing up straight, stretch the measuring tape over the tops of your shoulders and measuring between your AC joints.
Weigh yourself. Sometimes youth shoulder pads are sized by weight class, so its important to know your exact weight.
Now that you have these measurements recorded, it's time to find your correct size shoulder pads! Each brand sizes their shoulder pads differently, so check out the following top brand's size charts, to get an idea of where you stand.
Riddell Shoulder Pad Sizes - Youth / Adult
Schutt Shoulder Pad Sizes - Youth / Adult
Douglas Shoulder Pad Sizes - Youth / Adult
Bike Shoulder Pad Sizes - Youth / Adult
Gear Pro-Tec Shoulder Pad Sizes - Youth / Adult
*Please Note: These size charts are for reference purposes only. Please consult the exact size chart found on the product page before purchasing any shoulder pad from Sports Unlimited.
Top of Page
How do I know my shoulder pads fit and protect correctly?
Once your shoulder pads arrive from SU, you're going to want to make sure they fit correctly, and provide proper coverage to your shoulders and chest. Try your pads on and:
Secure all straps and laces. Properly connect the front and back of your pads with whichever buckle or strap system they came with. Tightly secure them, so you get a snug, yet comfortable fit against the back and chest. Don't leave excess room between your body and the pads.
Check the fit. A properly fitting shoulder pad shouldn't pinch your neck or collar, and should sit comfortably on your shoulders. There should be about 1" of padding should extend from your shoulder.
Check coverage, front and back. Your shoulder pads should completely cover your sternum and upper shoulders. You can check coverage by lifting your hands above your head. A properly fit shoulder pad should still cover these areas when lifted.
Check comfort and fit. Move around a little bit and perform some typical on-field movements to double-check the pad's comfort and fit.
Top of Page
What features should I look for in a new pair of shoulder pads?
All shoulder pads are designed to absorb impact force to your shoulders and chest, and protect you on the field. But some brands like Schutt, Riddell, and Douglas, have developed advanced technologies to take shoulder pads further. New padding, shell designs, and innovations improve performance, comfort, and protection, taking your game to the next level. If you're serious about protecting yourself and playing your best on the field, looking into the following features in today's modern and advanced shoulder pads:
TPU Cushioning

The uniquely innovative and indestructible padding system found in Schutt's most advanced football helmets has recently been reinvented in their high-end shoulder pads. Integrated into the chest, shoulders, and back, Thermoplastic Urethane (TPU) never breaks down, compresses, breads mildew and mold, or holds heat like traditional foam padding. This material protects better, lasts longer, and absorbs more impact force than any other padding system on the market, and can be found in Schutt's AiR Maxx Flex shoulder pad line.
Flat Pad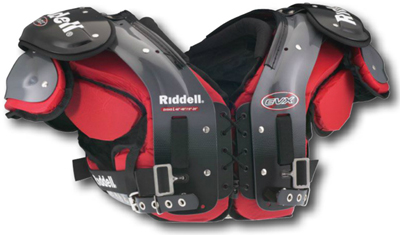 Found in most types and brands of shoulder pads, Flat Pads are low-profile, high-efficiency cushions that work to absorb the maximum amount of impact force, using the smallest amount of space. These low-bulk pads combine closed and open-cell foam, to spread the force of the hit over the largest amount of area possible, to protect you while also keeping you agile and mobile on the field, and reducing helmet interference.
Quilted Brock Beads Padding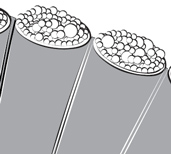 Lightweight quilted layers of padding, developed by Schutt, filled with tiny air-filled padded beads. Thousands of these beads release their air after an impact, diffusing the force over an incredibly large and efficient area, and reducing the force felt by the player. Brock Beads also push cool air closer to the body and improve air circulation.
Ventilation Holes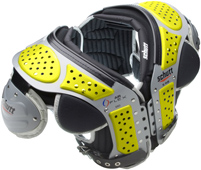 Found in Schutt shoulder pad lines, like the O2 Flex, XV Flex, and Varsity Flex, 7mm ventilation holes drilled directly into the shell of the shoulder pads allow hot air to escape, and allow cool air to flow through, keeping you cool, dry, and comfortable on the field.
IntelliArch Shell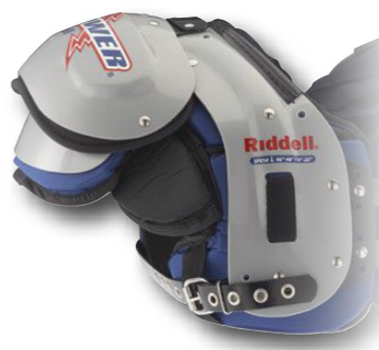 Developed by Riddell for use in their pro-level SPX line shoulder pads, the IntelliArch is 11% thinner and lighter than a traditional arch design, but with extended corrugations, is actually more rigid and tougher, to absorb the biggest hits, while keeping the player fast, flexible, and mobile.
Z-Cool Technology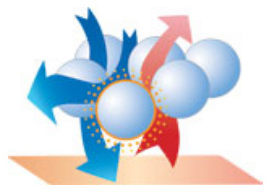 Found in Gear Pro-Tec shoulder pads, Z-Cool body cooling technology is three fold. First, waterproof beads in the cushioning actively circulate air, and is actually improved by sweating. Secondly, these beads separate from each other after an impact, absorbing the force and forcing cool air around the body. Lastly, improved ventilation in the shell allows hot air out and cool air in, allowing for less perspiration build up.
Top of Page
What accessories are available for my shoulder pads, and do I need them?
Shoulder pad accessories allow you to add to your shoulder pads, expanding their coverage and improving overall protection. With all football gear, players balance protection and performance, and by adding accessories, players add weight and bulk to their shoulder pads. However, with the excessive force of hits and the developing studies on the effects of football on the body, it's becoming more and more important for players to protect themselves as much as possible.
To stay safe and sharp out there, no matter your age or skill level, understand what each shoulder pad accessory can do for you, and decide whether they work for your game:
Back Plates
Designed to expand protection to your lower back, spine, and kidneys
Easily attach to the back of most shoulder pads
Lightweight and low-profile designs do not restrict movement
Popular amongst QBs and youth players
Neck Rolls
Designed to prevent neck snap-back and whiplash, and reduce spine injuries, stingers, and burners
Attach to the neck area of the shoulder pads
Can be tied down, inserted under the pads, or screwed directly into the shell
Multiple designs and styles to fit any need and size player
Provides improved neck and spine safety without overly restricting head movement
Rib Guards
Designed to protect the rib cage from serious impact
Worn under the jersey, separately or attached directly to the shoulder pads
Hard shell outer and impact-absorbing foam cushion
Varying styles, including flak jackets, suit any preference or size
Padded Shirts
Adds extra padding to the shoulders, ribs, and spine
Worn completely separate from the shoulder pads, as a base layer under the jersey
Sewn-in padding absorbs impact energy
Compression design acts as a second skin
Designed for maximum flexibility and moisture wicking performance
Injury Pads
Designed to protect players with injured, sore, or healing shoulders
Adds extra protection and impact-absorption to allow players to heal without restricting play-time
Thick, yet lightweight padding protects without holding back movement or weighing players down
Top of Page
What are the differences between the major football shoulder pad brands?
Shoulder pads come in a huge variety of styles, designs, configuration, and price points. Some brands are known for incredible innovation and technology, while others are popular for their affordable performance and protection. Understand what each brand has to offer, and see which shoulder pad would work best for your needs, and your budget!
Schutt:
An industry leader, Schutt protective football gear is known and trusted by countless youth, high school, college, and pro NFL players. Their innovative designs, technologies, and styles are of the highest quality, and perfectly balance comfort, performance, and protection. Designed for players of all ages and skill levels, Schutt shoulder pads are some of the most expensive, yet highest-performing shoulder pads on the market.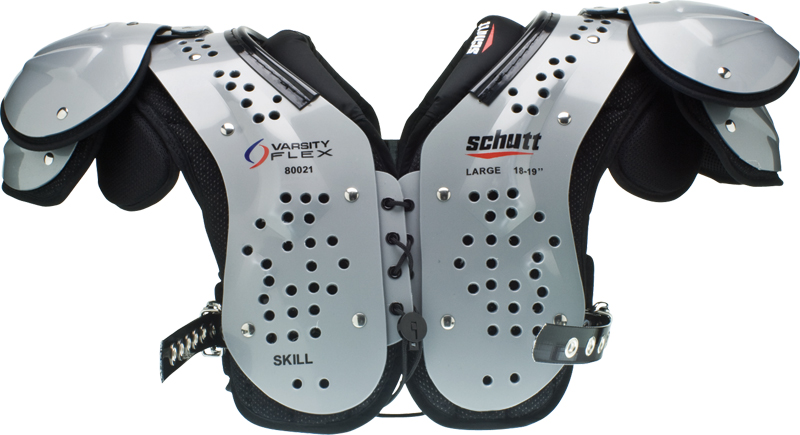 Schutt shoulder pad features:
Stainless steel hardware
AEGIS anti-microbial fabrics
Raised corrugations for added strength
Flat pads
Large ventilation holes
Removable, washable pads
Popular styles include:

XV HD
Varsity Flex
Air Maxx Flex
Riddell:
A household name in the world of football, Riddell has been developing helmets, shoulder pads, and other protective gear for the NFL for decades! Their high quality, innovative, and pro-level shoulder pads are used the world over by players of all ages and skill levels, and offer incredible protection and performance. With full lines of pads for every level and position of player, there is truly a Riddell shoulder pad out there for everyone.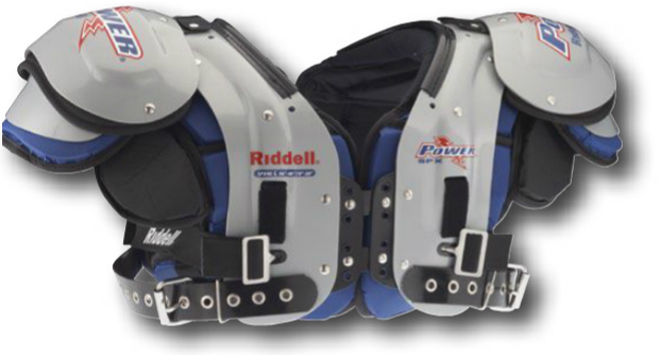 Riddell shoulder pad features:
Stainless steel hardware
Flat pads
Air Management System to absorb impact over the largest volume of air
Engineered Composite Sub-Arch improved shoulder cushioning and arch-liner stability
Corrugated arches
BIOTHANE webbing straps and belts
Popular styles include:

Power SPK
Power SPX
Kombine
Sports Unlimited:
We, at Sports Unlimited, have released our first line of shoulder pads in 2018 called the Prospect (for youth) and Prospect Pro (for adult). You can learn about both of these shoulder pads on our blog post: 2018 Sports Unlimited Football Shoulder Pads or on our comparison of the youth and adult pads here: Prospect Adult and Youth Shoulder Pads Comparison.
Douglas:
Trusted by 85% of Division 1-A college football players, and many NFL pros, Douglas shoulder pads provide advanced protection at more affordable price-points. High quality, innovative styles are built tough to take the hardest hits, and protect players of every age and skill level.
Douglas shoulder pads features:
100% urethane open cell foam padding absorbs impact force efficiently, providing lightweight, low-profile protection
Removable channel system disperses impact energy, directing it away from the more vulnerable spots on the shoulder
Custom pad system protects injured players without having to add extra padding
Bike:
Designed to protect players and deliver lightweight performance, all in an affordable, no bells and whistles package. Bike shoulder pads are popular amongst players of all ages and skill levels, noted for their durability, traditional styling, and solid price points.
Gear Pro-Tec:
Known in the industry for their Z-Cool Technology, which keeps players cool and dry while improving impact absorption, Gear Pro-Tech has developed some of the most interesting, innovative, and affordable shoulder pads of the passed few seasons. Trusted by top performing high school, college, and pro players, include 2008 Super Bowl Champion Pittsburgh Steelers James Harrison!
Adams:
Traditionally designed, affordable pads for players from Pop Warner to the NFL, Adams is known throughout the industry for high quality pads at amazing prices. Designed to protect and perform against the biggest hits, without hitting the wallet, Adams is continually a popular choice for players and parents alike.
Top of Page