What are the differences between slotted and snap-in pads?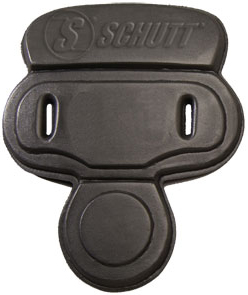 Thigh, hip, and knee pads are designed to fit into or onto a player's football pants or football girdle. Players typically wear one of two types of pants; one with snaps for their pads to attach to, or slots in the fabric where pads can slide into.
Slotted or snap-in pads tend not to vary in quality, so a slotted pad is no different than a similar-quality snap-in pad. The difference only lies in how they attach. For instance, a snap-in hip pad would attach to the matching snaps on snap-on football pants, while a slotted hip pad would attach to the hips of a pair of football pants with a belt or in slots on the pants. The choice between pads and pants is typically based on personal preference or budget.
Some players use Integrated Pants or Integrated Girdles, with the pads permanently sewn in. These do not require additional padding. Like with most football gear, make sure to select adult pads or youth pads, depending on what level you're playing at.
Top of Page
Is a lightweight pad better than a traditional weight pad?
That's a matter of personal preference, but pads deemed "lightweight" are not simply just lighter than traditional pads. Lightweight pads are less dense, and in turn, absorb less impact energy than normal pads. Lightweight knee, thigh, and hip pads keep a player more mobile and agile than other pads, however, you tend to lose a bit in overall protection when you go lightweight.
Top of Page
What is a high-rise pad?
The term "high rise" refers to hip pads that stick up higher on the hip, beyond what normal hip pads cover. They protect more of the hip area from injuries and impact, making them perfect for youth players. These pads also tend to restrict movement more than traditional hip pads.
Top of Page
What is included in 7 piece complete pad sets and 3 piece sets?
All of the pads you need for your lower half are included in complete, 7-piece pad sets.
With complete 7 piece pad sets, you get:
2 hip pads
2 thigh pads
2 knee pads
1 tailbone pad
A 3-piece pad set includes everything for your hip-area, including:
2 hip pads
1 tailbone pad
These sets can be very cost effective if you need a complete pad set or are replacing many pads.
Top of Page
What kinds of advancements or technologies have there been in knee, thigh, and hip pads?
Most pads are made of a durable foam and plastic shell to cushion and protect vital areas of the body. This design hasn't changed too much over the years, but some companies such as Schutt and Gear 2000 have improved their processes and materials to give the player a more comfortable and safer experience.
Gear 2000 has developed Z-Cool hip and thigh pads. This patented design technology has a 3-way air flow system that manages temperature and moisture, keeping the player cool when the heat is on.
Schutt has developed AiR Flex thigh pads, which use Beaded Brock Quilt technology to absorb and dissipate the force of impact, reducing injury and keeping players safe on the field. Schutt also covers the inside of their pads with an anti-microbial and breathable fabric that keeps players cool and dry, while preventing the growth of odor-causing bacteria.
Top of Page
What kind of football pants do I need with my football pads?
You have three basic choices when it comes to football pants:
Integrated pants
Slotted football pants
Snap-In football pants
Integrated pants do NOT require additional football pads. They feature an entire 7 piece set sewn in permanently, so you're good to go right out of the package. Slotted pants require slotted or belt-attached pads, to fit directly into the slots on the pants. Finally, Snap-In pants require snap-in pads, that attach onto the pants with durable snaps.
No one type of football pants or pads provide any better protection than the other, and typically it is a matter of personal preference and performance needs.
Top of Page