At what age should I upgrade to an Adult helmet?
There is no "definitive" age barrier between youth and adult football helmets, but generally speaking, players should look to upgrade to adult-level helmets in middle school, or between 12 and 14 years old. In fact, 14 may even be pushing it a little bit.
The major difference between a youth and adult football helmet (besides the obvious size differences) is the shell material:
Youth football helmets are made with ABS plastic, which is lightweight, durable, and designed to withstand a great amount of force, but nothing more than a large child could exude.
Adult football helmets are made with a substantially stronger, lighter-weight Polycarbonate material, designed to offer maximum protection for incredible impact force, especially in helmet-to-helmet contact.
Youth leagues such as Pop Warner make wearing adult Polycarbonate helmets illegal, since, in a helmet-to-helmet collision, a Polycarbonate helmet could damage an ABS helmet, and the seriously injure the player inside. Conversely, High School leagues exclusively require Polycarbonate helmets to better protect their players from the increased force of hits between stronger, older players.
Top of Page
How do I know what size helmet is right for me?
To get the right size helmet, it's important to find an accurate measurement of your head to use as a guide when buying a new helmet. It's simple and quick, and all you need is a flexible measuring tape (or a string) and a buddy! Check out this video, or follow the simple steps below to get the right size helmet for you:
Get the help of a friend, coach, or parent
Use a flexible measuring tape or string
Start to measure at a spot on the forehead, about 1" above your eyebrows (this is where the forehead pad of the helmet will rest)
Wrap the measuring tape around the widest circumference of the head to get the most accurate reading
Record the measurements in inches and centimeters
Consult the size chart of your favorite helmet, right on the product page, to find your proper size
Top of Page
How do I know my helmet fits correctly?
A snug, comfortable helmet will always protect better than an ill-fitting one...no matter how advanced or expensive the helmet. So to make sure you're getting the best protection possible, when you get your helmet from Sports Unlimited, run through these quick steps to make sure it fits correctly: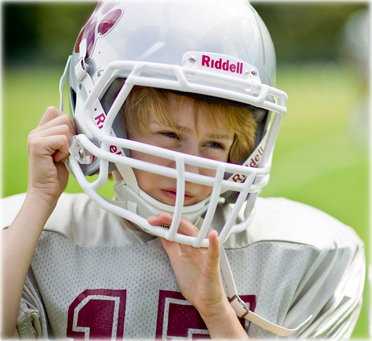 Put the helmet on, and adjust the chin strap so it fits snuggly and comfortably
Check to ensure there is no space between your temples and the inner helmet liner or padding
Make sure there is no space between your jaw and the jaw pads
If you purchased a helmet with an air liner and/or inflatable jaw pads, use a helmet pump to inflate the crown, so the helmet sits correctly, and inflate the back of the head and jaw pads to fill in any extra space
Make sure the helmet does not move when you rotate or move your head
Make sure the helmet sits at the proper spot on the forehead and it gives you a clear view of the field
Top of Page
How much do football helmets weigh?
With different padding, shells, designs, technologies, and facemasks, helmets can vary greatly in weight, from 3lbs to almost 5lbs. This may not see like a lot, but all that weight on your head can slow down your performance or strain  your neck muscles, especially for younger, developing players. Now while its true the more advanced, protective helmets tend to weigh more, its important to know and expect how much your helmet will weigh, to get a complete picture of your helmet before you buy it.
Below is a list of football helmet weights. Keep in mind that only Large helmets were weighed, so other sizes will vary slightly in weight.
*Total weight includes the attached facemask or standard ROPO facemask designed for the helmet, chinstrap, and hardware.
Helmet
Weight (lbs)
ADULT
Helmet
Facemask & Chinstrap
Total
Schutt F7
3.3
0.85
4.15
Schutt Vengeance Z10
2.55
1
3.55
Schutt Vengeance VTD II
3
1.25
4.25
Schutt Vengeance Pro
2.5
1.3
3.8
Schutt Air XP Pro Q10
2.95
0.8
3.75
Schutt Air XP Pro VTD II
3.15
1.35
4.6
Schutt Air XP Pro
-
-
3.85
Riddell Speedflex
3.5
0.95
4.45
Riddell Revo Speed
3
1.15
4.15
Riddell Revo Speed Icon
3.1
0.95
4.05
YOUTH
Helmet
Facemask & Chinstrap
Total
Schutt Youth F7
3.3
0.85
4.15
Schutt Youth Vengeance Z10
2.4
0.95
3.35
Schutt Vengeance A3+
2.55
1.15
3.7
Schutt Vengeance A3
2.55
1.15
3.7
Schutt Recruit Hybrid
2.65
1.35
4.0
Riddell Speedflex Youth
3.2
1.0
4.2
Riddell Revo Speed Youth
2.8
1.15
3.95
Riddell Victor-i
-
-
3.55
Riddell Victor
-
-
3.45
Top of Page
Which helmet is right for my age and skill level?
When narrowing down your helmet choice, it's important to consider your age, league, skill level, needs, and budget. Typically, as you age and gain experience, you're going to need a better helmet, which you can certainly spend more money on. But when you're young and just starting, there's really no need to drop serious funds on a helmet, unless you really want to. So, to give you a better idea of which helmets to look at, that will meet your needs and fit your budget, consult the following, grouped by Age / League:
Pop Warner (5 - 10 Years Old)

Very young players require basic protection, since they are not experiencing high or dangerous impact forces
Lightweight, affordable youth helmets are suggested for this age range
Based on their affordability, design, and weight, for this age range, check out the:

Schutt Youth Vengeance A3
Schutt Youth Vengeance A3+
Schutt Youth Vengeance Pro
Schutt Recruit Hybrid
Schutt Air Standard V
Riddell Revolution Speed Youth
Riddell Victor-i
Riddell Victor
Xenith X2E Youth

Middle School (10-14 Years Old)

Older children and young teens should still wear youth helmets, but might consider upgrading to adult helmets as they get closer to high school
Middle school players are getting stronger, and are hitting and getting hit harder than ever before
These players need more protective helmets, that are still lightweight and designed for young players
Youth versions of popular adult helmets, with lightweight shells and advanced padding are always great helmets for this age range
Based on their protection, performance, light weight, and size, for this age range, check out the:

Schutt Youth Vengeance A3
Schutt Youth Vengeance A3+
Schutt Youth Vengeance Pro
Schutt Youth Vengeance Z10
Schutt Recruit Hybrid
Riddell Speedflex Youth
Riddell Revolution Speed Youth
Riddell Victor-i
Riddell Victor
Xenith Epic+ Youth
Xenith Epic Youth
Xenith X2E+ Youth

High School / College / Professional (15 + Years Old)

By high school, all players should be wearing Adult football helmets
Polycarbonate shells, advanced liner systems, innovative padding, lighter and stronger facemasks, and better chin straps work to protect older players from the hard hits and greater impact forces on the field
Adult helmets are more protective, yet also heavier than youth helmets
Older players, committed to the game, should be prepared to spend more on their football helmets, as the more advanced, protective helmets tend to skew higher in price
Based on their advanced protection, superior performance, and innovative technologies, for this age range, check out the:

Schutt Vengeance DCT
Schutt Vengeance VTD II
Schutt Vengeance Z10
Schutt Vengeance Pro
Schutt Air XP Pro VTD II
Schutt Air XP Pro Q10
Schutt Air XP Pro
Riddell Speedflex
Riddell Revo Speed
Xenith Epic+
Xenith Epic
Xenith X2E+
Xenith X2E
Top of Page
What features should I look for in a new helmet?
Football helmets all utilize the same standard features, a shell, inner padding, facemask, chin strap, and possibly a liner. The types of materials may vary, helmet to helmet, but all use the same basic design. However, brands like Schutt and Riddell have worked hard developing, testing, and implementing advanced and innovative technologies into their helmets to improve safety, comfort, and performance well beyond the standard.
The following are some advanced features of today's modern helmets that you should look for in your next helmet, especially for older, serious players:
TPU Cushioning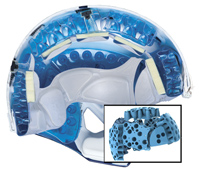 One of the leading helmet padding technologies, Thermoplastic Urethane or TPU, was first developed by Schutt for use in the U.S. Air Force, and has since found its way onto the football field in some of the most popular and safest helmets of the passed five years. Anti-bacterial, anti-fungal, and virtually indestructible, TPU holds up better than all standard padding before it, and doesn't compress like foam. This keeps it performing at peak levels, even after seasons and seasons of impacts. (Found in Schutt Jaw Pads as well for mandible protection)
Helmet Stabilization System
One way helmet manufacturers have looked to improve the safety of the helmets is addressing the fit. Keeping the helmet securely in place has been shown to limit the jarring of the head after contact, allowing the helmet to disperse the impact. The use of a Helmet Stabilization System, and its internal and external jaw stabilizers has significantly improved the fit of the helmet around the jaw line, giving players a confident snug feel. This technology has been introduced into Schutt helmets, including the new Schutt Air XP Pro Q10.
Air Liner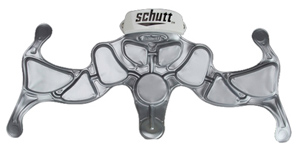 Found in many helmets from Schutt, Riddell, Adams, and more, Air Liners come in all types of designs, but the basic principle is always the same. Inflatable air pockets, strategically placed in the liner, are inflated with a pump, and fill out any extra space between the shell, padding, and the player's head. Air Liners work to improve and customize the fit of a helmet, to give players the most snug, secure, and safe helmet possible. Air Liners wrap around the head and at the top of the crown, to lift the helmet off the head for the best view through the facemask.
Quick Release Face Guard System
Found in modern Riddell football helmets, the Quick Release is a push-button face mask release system that almost instantly detaches the facemask in case of emergency.
Inflatable Jaw Pads
Similar to Air Liners, inflatable jaw pads are designed to fill with air and create a more snug, secure fit around the mandible area.
Top of Page
How does the helmet's shell affect its performance?
The shell is the front line of defense against impact force. It's the hardest, most durable part of the helmet, and takes the brunt of any big hit. Typically, football helmet shells are made with either ABS Plastic (for youth helmets) or a Polycarbonate Alloy (for adult and pro helmets), and built with a standard or oversized offset.
Shell Offset:
Shell offset refers to the amount of space between the shell and the player's skull. The larger the offset, the further the force needs to travel after an impact, to reach the head.
Oversized offset or Large Standoff helmets are larger shells, designed to absorb more impact force than a smaller offset. Large offset helmets also allow more room for padding and cushioning. The drawback is that they make for a larger profile and heavier helmet, so typically helmets with an oversized offset are NOT suggested for youth players.
 Standard offset or traditional shells are normal sized shells with typical amounts of padding and cushioning. They don't offer the same impact protection as oversized offsets, but the traditional feel, profile, and weight, make them popular with all types of players.
Top of Page
Which facemask is right for me?
Facemask choice depends on your helmet, position, skill level, and ultimately, your budget.
By Helmet Type:
Facemasks are designed to fit certain types of helmets, brands, and styles. For instance, Schutt facemasks typically can only fit Schutt helmets. Similarly, advanced helmets like the Riddell 360, Schutt ION 4D, and Schutt Vengeance, have advanced, re-designed facemasks that only fit those helmet respectively. When you find the helmet for you, check out our facemask selection to see what facemask options you have, for that helmet in particular.
By Position:
Facemasks utilize metal bars across the mouth and eyes to protect the face without obstructing visibility. But the configuration of these bars can differ, favoring field of view over protection, and vice versa. These configurations are what makes certain facemasks "position specific."
Quarterbacks need clear visibility to see all the way down the field. They also get hit less than other players, so their facemasks are typically lighter, with more wide-open, basic bar configurations.
Running backs and wide receivers also need great visibility to maneuver through traffic and catch passes. However, they're also getting hit pretty often, and need protection from the competition. Typical WR and RB facemasks deliver minimal bar configurations, focused on oral and visual protection.
Linemen take a ton of punishment, and are right in the heart of the action, so they need the most protection, with minimal visibility. That's why lineman facemasks usually feature multiple vertical and cross bar configurations, to keep other lineman from getting their fingers or hands between the bars to cause injury.
By Skill Level/Budget:
Facemasks are all made with one of three types of metal. They range in strength, weight, and price, and are meant for players of different skill levels and budgets. For instance, a serious high school or college player committed to the game may want to spring for a high-level facemask, to give himself the edge in the game. On the other hand, a young player with a tight budget and developing skills may not need, or need to afford, a high-end facemask.
Carbon Steel is the standard, moderately weighted, durable facemask metal, great for younger, or newer players.
Stainless Steel is a bit lighter than Carbon, still strong, but a bit more expensive, so it is typically used by more skilled, or serious players like high school and college players.
Titanium is the lightest, strongest facemask metal around. Perfect for the incredibly serious or pro player, titanium facemasks give players the edge they need.
Top of Page
What are the differences between the major football helmet brands?
Right now, the football helmet industry is dominated by two main brands; Schutt and Riddell. They produce the highest rated, most technologically advanced helmets in the game, and both can be seen regularly on almost every NFL player in the game. There are other second and third tier brands that offer great helmets at affordable prices, which you should also keep in mind when looking for a new helmet. Let's take a closer look at each brand to get a better idea of what they have to offer:
Schutt
Designing and developing some of the most technologically advanced, aggressive-looking helmets in the industry
Used and trusted by countless NFL and NCAA players
Large and varied line of helmets ranging in price, for everyone from youth to pro players
Priced higher than other helmet brands, but feature higher quality styles and technologies
Most known for:

VTD helmets
Air XP Pro
Youth Hybrid helmet
Riddell
The household name in football gear
Known for generations for delivering high quality equipment for youth, high school, college, and pro players
Full line of helmets for players of all ages and skill levels
Competitively priced and high quality
Most known for:
Xenith
Adaptive head protection system built to fit various head shapes
Only helmet brand that doesn't use inflation system in any helmets
Integrated chin strap/bonnet fitting system that helps padding conform to head
Padding in helmet is floating, not fixed to the shell like other helmets
Most known for:
Top of Page