Life is good Women's T-Shirts and Apparel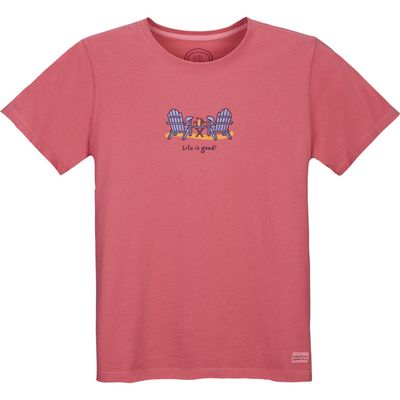 Life is good clothing does a few things that make it many women's favorite brand to wear. It feels great, conveys great messages, and actually donates 10% of its annual net profits to help kids in need. From t-shirts to pajama pants to hats, Life is good designs clothes for women in a soft and stylish color palette with artistic depictions of the simple messages displayed on the apparel. Simplistic in design and philosophy, the creativity, joy, and sincerity behind the brand Life shows that a great attitude can not only change your day, but change those of the people around you.
Being comfortable in the clothes you wear is not only desired, but when you wear Life is good, it is true. With high quality cotton and other materials depending on the product, Life is good provides the soft comfort you want from a t-shirt along with beautiful pastel colors that always look good. When you lounge on the couch, run errands, or take a walk to enjoy the day, you don't have to sacrifice looking good for feeling good. Make the decision to be happy and live well. That can all start with some Life is good clothes.